About Esco Aster
Esco Aster leverages its expertise in life science manufacturing to provide end-to-end solutions for bioprocessing equipment and tools ranging from upstream to downstream applicationsEsco Aster is committed to make complex manufacturing simple via the continuous manufacturing platform, the Tide Motion technology. This cell culture technology provides a great tool for manufacturing human therapeutics such as vaccines and monoclonal antibodies and applications like cell-, gene therapy for regenerative medicine.
Bioreactors
There are many different types of bioreactors and choosing the right bioreactor system for cell culture is crucial for success. The choice of bioreactor system to use greatly depends on the desired type of cells to be produced, the process of the cell culture, and the product density. Esco offers different types of bioreactors, suited for different types of cells, applications, and scales.
Tide Motion Bioreactors
The term 'Tide Motion' came about through the cyclical high rise and low rise of the bodies of water on earth. Similarly in a bioreactor, this is the gentle upward and downward movement of the culture medium to provide alternate aeration and nutrition exposure to cells. This favorable culture environment that limits shear stress produces over 1x106 cells/mL in just one 500 mL culture bottle. The Tide Motion bioreactors are available in single use or multiple use with automated systems for parameter control and harvesting procedures.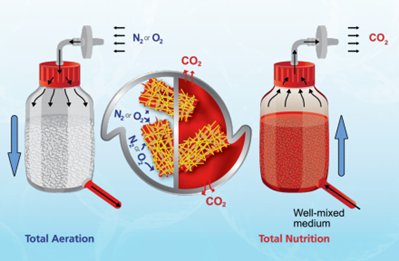 Tide Motion features:
High Density 3D Adherent Culture with Macroporous Carriers
In vivo like Culture with up to 2x108 cells per 500 mL of culture (cell density for stem cells)
Scalable Platform in batch, fed-batch, and perfusion process modes
Reduced Equipment Footprint
Automated and Closed System for cGMP commercial production
Perfectly suited for stem cell, vaccine, cosmeceutical, extracellular vesicle production
Combination technology: Multiple-use or Single-use Components
Linearly scalable from bench to manufacturing scale
Dual oxygenation feature
Run in normal or hypoxic conditions
Various Process Modes:

100% Media Exchangeo Batch
Fed-Batch
Perfusion
These bioprocessing tools provide a reliable and linearly scalable outcome from small scale to production scale. Join the Tide for easy to use, cost-effective culture over static 2D culture systems.
Stirred tank Bioreactors
This type of bioreactor is commonly used for fermentation or microbial culture applications. It adapts the same, conventional stirring method for culture and has different fluid dynamics for agitation. This agitation is done through impellers that have different designs to cater high oxygen transfer during cell culture.
Stirred Tank Features:
Perfectly suited for microbial, yeast, fungi, enzyme, antibody production
Reliable process performance with data tracking
Compact and flexible design for a minimal footprint (bench-scale systems)
Process scalability from research to manufacturing scale
Configurable processes for meeting user's requirements
Different impeller designs available for optimum mixing conditions
Supports batch, fed-batch, and perfusion process modes